IN A PREVIOUS blog we looked at the phenomenon of Anti-Social Reading, the way in which individuals use reading to fend off the unwanted attention of others. Here we consider the way that reading can be used as a form of self-invention through the deployment of performative literacy.
Certain regimes of culture and class, observed Pierre Bourdieu, require codified repertoires of behaviour in a game with sometimes simple, often subtle, rules. Such rules, concluded Bourdieu, must be followed if individuals are to earn and maintain their advantage in their chosen sphere of symbolic capital. Books and libraries, and the performance of reading, have long played important roles as such markers of distinction.
Two days after the death of the Duke of Edinburgh, Nicola Sturgeon, leader of the Scottish National Party and First Minister of Scotland, delivered the following panegyric: "He was a thoughtful man, deeply interesting and fiercely intelligent. He was a serious bookworm – which I am too – so talking about the books that we were reading was often, for me, a highlight of our conversations." For many months in the Scottish press, Sturgeon had been characterized as a "bookworm" based on the regularity with which she publicly tweeted about the many books she had read. In her reading endorsements, Sturgeon has always been careful to avoid overly popular titles, her recommendations tending to fall on the worthy side of middlebrow. What Sturgeon has always performed in her declared reading choices, and with impeccable consistency, is a proud Scot, cosmopolitan in outlook, with a healthy regard for social justice.
A Victorian Common Reader
In an age that valued educational attainment, nineteenth century memoirists also advertised their personal virtues through their familiarity with an extensive literary repertoire, reeling off the books that had influenced them throughout their lives. This was particularly so in the case of the 'labour aristocracy' in Victorian Britain, skilled workers with social aspirations. What today we would call virtue signaling was the modus operandi of the nineteenth-century autobiographer, particularly those that set out to tell the story of their lives as journeys from rags-to-riches.
The Melbourne sheep farmer, George Russell, had begun life in Scotland as a humble ploughman, settling in Victoria in the 1820s. Like many he arrived with only a handful of books, mostly religious and with a Scottish emphasis. Because Russell was in the habit of entering the date of acquisition in the fly-leaf of each volume, we are able to catalogue his changing patters of book collecting in the years that followed. Over the next three decades, Russell's fortunes were on the rise and by the 1850s he oversaw the building of a new homestead and briefly returned to Scotland to marry his cousin and to acquire a few necessities with which to furnish his new Antipodean home. Visiting the second hand booksellers of Edinburgh he bought himself a homely library, practical in nature and with a distinctly Scottish flavour.
After two more decades of financial success, Russell was to take his place as a member of the Melbourne elite. In the 1870s he ordered a consignment from the London bookseller Henry Southeran with which to furnish the library of his newly built mansion. Around the same time, he hired a Melbourne cabinet maker to fashion a set of imposing cases to display his new acquisitions. Unlike the 1850s books, the 1873 titles include a conspicuous number of uniformly bound sets of classical literature and British and imperial history. Thus can Russell's desire to advertise his ascendancy from his origins as a farm labourer to a member of the colonial elite be traced through his book collecting. That this was a library for display rather than reading is evident in the fact that the volumes show little signs of wear and many remain uncut.
As Russell well understood, in a class conscious society an impressive library could confer instant respectability. Like the grand libraries of earlier aristocratic households, the personal library, for the great industrialists of the twentieth century, continued to be a place in which to perform their cultured status. Having made his fortune in the world of modern media, this was certainly important for a magnate like William Randolph Hearst, whose library in California is pictured here. For Hearst, who had made his millions through sensational headlines, it was important to advertise his cultured credentials, and one way he did it was through his spectacular library and collections.
Performative Reading Now
Those who no longer have the means nor the will to amass prestigious book collections can instantly and easily acquire them. For a mere £270, Books by the Yard will sell you "an absolutely beautiful, hand-picked selection of books bound in distressed leather to bring a feeling of elegance and antiquity onto any bookshelf." Other companies cater for those who might want to create a less expensive bookish aura even without the inconvenience of actually dealing with dusty tomes. For £40 a roll you can display your intellectual pretensions with Book Grunge wallpaper (pictured here) that its manufacturer claims "showcases hundreds of books on shelves that will make an incredibly wonderful addition to any study, office, or any space in an educational environment."
Many academics will have been struck by the frequency with which interviewers insist on filming them in front of their bookshelves, presumably as a guarantor of scholarly integrity. Such gestures are the legacy of a time-honoured painterly and photographic tradition of the learned scholar in his study. In the age of zoom, academics frequently pose themselves in front of bookcases, a performance that some manage to achieve with varying degrees of success: a sparsely populated bookcase with intermittent pot plants can have the opposite effect. If in doubt, get yourself a Vintage Bookcase Magic Screen (pictured above) from the American supplier for a mere $15.60.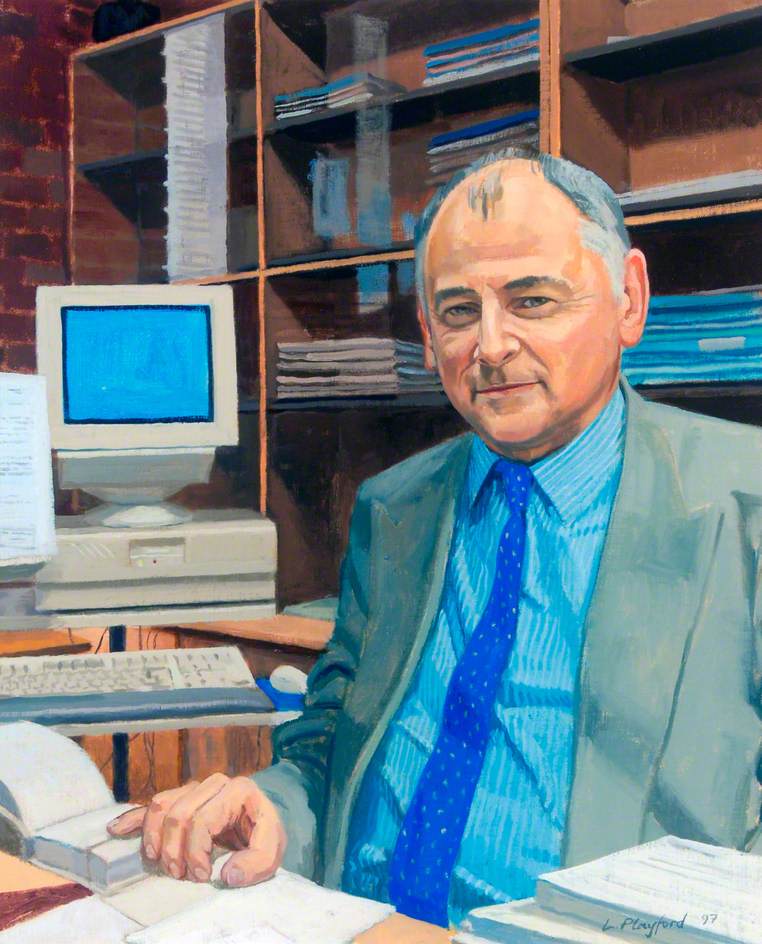 One witty conceit that plays with such kinds of performative reading can be seen in this 1997 portrait of Ian Mowat, formerly Librarian to the University of Edinburgh. The absence of books and the dominance of the computer screen speak volumes about the way in which the reader finds himself at a moment of transition between the established realm of bibliographical librarianship and the brave new world of information technology. The refusal to play by the established rules of symbolic capital, combined with the surreptitious attention to the book on his desk, perhaps hints at what this busy administrator would rather be doing.